This site brought to you by Stefan Gonick
EFT Practitioner, Trainer and Soulmate Attraction Mentor
www.EFT-Alive.com Single2Soulmate.me

Disclaimer: The presenters feel that these workshops generate extraordinary benefits for all attendees. However, EFT is a very flexible process and thus the workshops represent the views of the presenter(s) and do not necessarily reflect those of EFT, Gary Craig or Stefan Gonick, the owner of this web site.
Workshop Information
100% YES! Live Workshop – Frankfurt

The Energy of Success Live Workshop
Date:
Tuesday, September 19, 2017 to Wednesday, September 20, 2017
Time:
9.30am - 6pm
Num Days:
2
Cost:
Early Bird Discount € 290, Full Fee € 390
Presenter(s):
Steve Wells
Location:
Yogacenter Frankfurt (3rd floor of the building)
Gutleutstraße 169-171
Frankfurt, Germany
Email:
Email Presenter
Web Site:
http://www.eftdownunder.com/100-yes-frankfurt/
Return to Workshop Listing
---
Register before 30th of June to take advantage of the Early Bird Discount of €290

"When you are inspired by some great purpose, some extraordinary project, all your thoughts break their bonds: Your mind transcends limitations, your consciousness expands in every direction, and you find yourself in a new, great and wonderful world. Dormant forces, faculties and talents become alive, and you discover yourself to be a greater person by far than you ever dreamed yourself to be." ― Patañjali


What is 100% YES!?

100% YES! Live is a personal development and peak performance program that uses cutting-edge Energy Psychology techniques to empower you to:

-Clarify your success vision,
-Free yourself from emotional barriers to success,
-Align with your core values, and
-Take action to achieve your life and business goals


Who is it for?

100% YES! is used by:

Business leaders and business owners who want to create dramatic shifts in personal performance and boost the performance of their company.

Coaches, counsellors and change agents who can use it's powerful framework and techniques to create dramatic shifts for their clients.

Growth-oriented achievers worldwide who want to get better results: This is for you if you are feeling stuck, or held back by anxiety, fear, limiting beliefs, self-sabotage, procrastination or low self-esteem and you want to create a better future.


Discover the 3 Keys to
Finding Lasting Love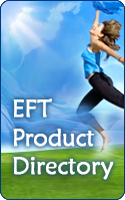 EFT never ceases to amaze me! The process is gentle and often provides benefits where other methods fail.
— Dr. R. Vergini, MD