This site brought to you by Stefan Gonick
EFT Practitioner, Trainer and Soulmate Attraction Mentor
www.EFT-Alive.com Single2Soulmate.me

Disclaimer: The presenters feel that these workshops generate extraordinary benefits for all attendees. However, EFT is a very flexible process and thus the workshops represent the views of the presenter(s) and do not necessarily reflect those of EFT, Gary Craig or Stefan Gonick, the owner of this web site.
Workshop Information
---
Emotional Freedom Techniques Training (Level 1) with Accredited Master Trainer of Trainers, Nancy Forrester

Heard of EFT? Want to TRY it out and see if it is right for you and your clients?

Join us for One day, Level 1 EFT Training on Sunday May 7th

Fully accredited with AAMET International

Cost: 150 plus HST and admin fees.

If you decide to advance to the NEXT level, "DISCOVER the POWER", the full cost of this training will be credited towards the full 3 day course in June 2-4th.

Here's the Details
Time: 9am - 6pm
Location: Park Inn, Markham.
555 Cochrane Drive, Markham, ON

This is a great opportunity to not only learn EFT techniques but to discover whether it is a tool you want to use in your own personal and professional practice. If you decide to move towards taking the full training, we'll continue June 2-4 with 3 days of live and interactive training.

ONLY 14 SPOTS AVAILABLE!!!

This Level 1 Training Includes:

** A 2 hour webinar pre-training presentation
** Full day Level 1 training
** 2 hour tele-call post training (2 weeks after live class)

Discover the 3 Keys to
Finding Lasting Love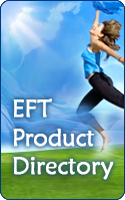 EFT never ceases to amaze me! The process is gentle and often provides benefits where other methods fail.
— Dr. R. Vergini, MD