This site brought to you by Stefan Gonick
EFT Practitioner, Trainer and Soulmate Attraction Mentor
www.EFT-Alive.com Single2Soulmate.me

Disclaimer: The presenters feel that these workshops generate extraordinary benefits for all attendees. However, EFT is a very flexible process and thus the workshops represent the views of the presenter(s) and do not necessarily reflect those of EFT, Gary Craig or Stefan Gonick, the owner of this web site.
Workshop Information
Essential Skills in Comprehensive Energy Psychology Level 1 San Antonio

12CE Hours mental health/bodyworkers - CME/CNE for Physicians / nurses
Date:
Wednesday, May 17, 2017 to Thursday, May 18, 2017
Time:
8:30 -4:30
Num Days:
2
Cost:
$395 before march 27
Presenter(s):
David Gruder
Location:
Hyatt Regency Riverwalk
123 Losoya Street
San Antonio, TX, USA 78205
Phone:
619-861-2237
Email:
Email Presenter
Web Site:
http://energypsych.org/events/EventDetails.aspx?id=878552
Return to Workshop Listing
---
Learn simple, powerful practices to swiftly improve the functioning and well-being of your clients.

Master an integrative framework that allows you to combine energy work with most conventional psychotherapy modalities. 


Develop a specialty niche in the $57 billion complementary and alternative health care market and reduce dependency on low-fee managed care contracts.

By the end of both workshops, you will learn a comprehensive approach to energy psychology interventions, which include working with:

Energy Pathways - The Meridians and Related Acupoints
Energy Centers - The Chakras
Energy Systems - Biofields that envelop the body


This is Level ONE of a two-part series designed to help you understand EP within an overall perspective of sound science, practical application and ethical consideration. You will leave with a comprehensive array of tools that enable you to customize treatment for each client. You will also have a framework that allows you to integrate these tools with most conventional psychotherapy modalities. This workshop also prepares helping professionals wishing to become part of ACEPís certification program in comprehensive energy psychology.


Level One Overview

Review the growing body of theory and research supporting energy interventions in psychology
Learn to use the Six-Step CEP Integrative Model
Learn multiple approaches to getting information from the body
Learn to assess and correct system-wide energy interferences that block treatment success
Learn to assess common objections and blocks to treatment that increase resistance and decrease motivation for change
Learn basic processes to clear blocks and objections
Learn basic meridian treatments for trauma, anxiety, pain, depression, addictive urges, negative feeling states such as shame
Review ethical issues in energy psychology

This workshop provides extensive opportunities for experiential practice.


Who should attend these workshops?


Forward-thinking psychologists, therapists, counselors, physicians, nurses and helping professionals who:

Want to bring rapid, deep and lasting relief to clients
Want to be able to treat aspects of PTSD in 6 sessions or less
Are open-minded, but healthily skeptical
Understand that the healing relationship is necessary, but not always sufficient for true healing
Enjoy using active and focused therapeutic approaches such as EMDR, NLP, hypnosis and biofeedback
Are looking for state-of-the-art therapy using the mind-body connection
Want to significantly increase the value of their practice by providing a service for which clients are willing to pay out-of-pocket

Discover the 3 Keys to
Finding Lasting Love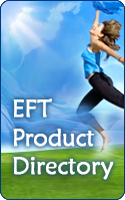 EFT never ceases to amaze me! The process is gentle and often provides benefits where other methods fail.
— Dr. R. Vergini, MD